"Only dead fish swim with the stream."
Malcolm Muggeridge
Logic will get you from A to B. Imagination will take you everywhere.
An hour sitting with a pretty girl on a park bench passes like a minute, but a minute sitting on a hot stove seems like an hour. That's relativity
Are you looking for new music?  A fan of Sam Cook?  Fresh from a Quantum Leap out of the 60s Motown scene by way of England is Home Again by Michael Kiwanuka - it's absolutely astounding and beautiful in its minimalism.  Per John Mayer:
What a voice. What a song. What a vibe. What a soul. What a message. I don't want to wait until I listen through every song on his album and I invent some dumb self-protective reason why it wasn't what I first thought it was. It absolutely is what I think it is: it's a revelation. It's a reassurance to everyone who loves and plays "natural" music that the future of it is going to be alright for quite some time. I just clicked on all the previews on iTunes and I'm so excited to get to know the album.  Please buy records by people who write and play their own music. It matters more than you think. Tonight I had a rare "pull the car to the side of the road" moment. It's been too long. So exciting.
Having been buried in oodles of code, I've taken many strides towards figuring out which Mac code editor I like best.  Sublime 2 is pretty sublime but Espresso 2 is also excellent.  I haven't lost sight of Coda 2 also.  With that said, monospaced fonts appropriate for coding can be tremendously helpful, thus see Inconsolata (which is free)
MacRabbit also has what looks like a wonderful app for converting PSDs to PNGs for retina and non-retina displays in a simple and near-automatic way.  Check out Layer Cake
Fieldrunners 2 has sucked me into the vortex that it is.  It's dastardly fun and beautiful to look at – well worth the $2.99
The super duper Canon 7D has become my new baby and I'm in love.  I upgraded from an older Digital Rebel and the difference is absolutely remarkable
So I've been hammering away at the next version of InBloom and have a number of loose-ends to tie up.  But I need help finalizing a toolbar design and am reaching to the web: give your constructive feedback here (or on Dribbble) and I'll put you in the running for a free Dribbble invite.
Designing in FileMaker is a beast unto itself: it's vector-based, but flat colors only, GUIs have no horizontal component flow (only vertical), limited resize capability and nearly no-hide and appear capability worth considering. I'm really hammering at this design and it will be used on both desktop and iPad versions, most likely. But am still having trouble as to the myriad of versions that I prefer. The search field is very helpful and the little leaf will return the user to the home screen FYI.
With that said any and all constructive feedback puts you in the running, then I'll raffle it off said way… probably with a FileMaker-based raffle picker!
Click any thumbnail to enlarge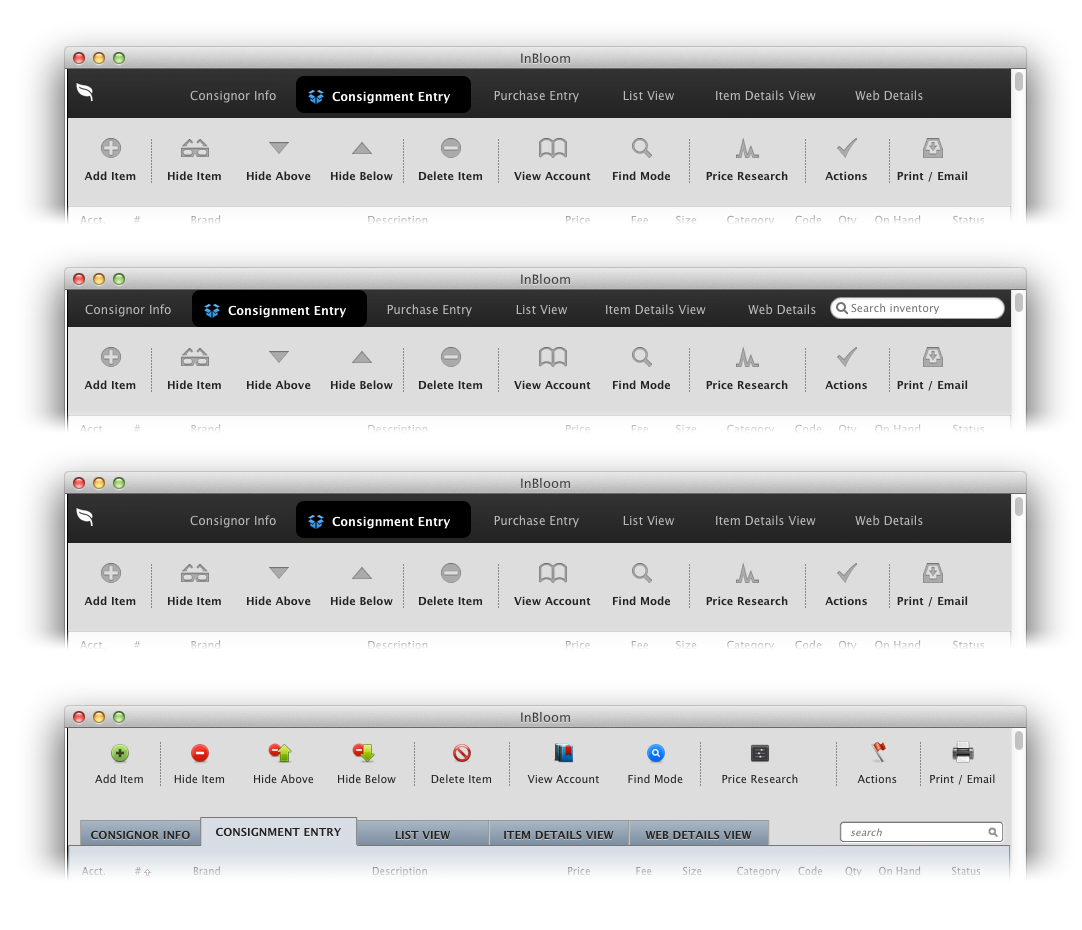 The greatest danger for most of us is not that we aim too high and we miss it, but we aim too low and reach it.

–Michelangelo