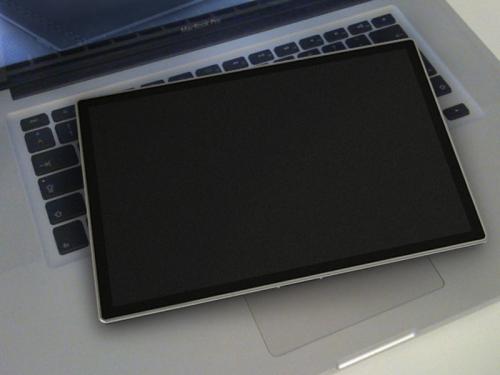 A little over 24 hours to go until Apple releases their next device which is going to end world hunger.  Not really, but the press build up seems to indicate that what is coming is worthy of such epic proportions.
Most likely it will be a game changer but while many people are thinking that it will be a business-focused device, I'm downright sure that it will be an entertainment device, along the lines of a game machine with some possible benefits of an e-reader or other media device.  If anything has flourished on the iPhone development platform, it has been gaming.  Apple has opened up a new type of device in a market with no to little other competition and Nintendo has shown that focusing on the arms-race between processor power and graphic display isn't always the path.
Apple is looking down the same highway, seeing little to no other competitors and looking to combine their unibody engineering experience, the new built-in battery, and the flourishing development of the iPhone & iPod Touch into a product that answers the two most salient questions, one from John Gruber and the other from Steve Jobs:
Per John Gruber and his epic Tablet post of 2009: If you already own an iPhone and a MacBook, why would you want to own this device?
Per Steve Jobs: What good is a tablet device for other than web browsing in the bathroom?
A standard tablet computer, developed by Apple, doesn't answer those two basic questions. But if refocused as a platform that is designed for entertainment, you have a device that can tie directly in to the record sales and growth that the gaming industry has enjoyed for years, including 2008 & 2009, when just about every indicator showed businesses hurting throughout the global downturn.  Oh, and you get a device that fills a niche between your Macbooks and iPhone, and is good for email when you're pooping.  (Yes, I used pooping in a journalistic speculation article – quality!!!!)
Per the Entertainment Software Association data on 2009, computer games sold $701 million worth of games at 29.1 million units, there was a record $2.1 billion in portable software sales, and the most popular genre was "Family Entertainment".  It makes a clearer case why Apple might want to ignite the fuse on their not so dark-horse gaming platform with a hardware upgrade that is as sexy as they can make it.